Modern facilities have brought us comfort and convenience that would have been unimaginable 100 years ago. However, sophisticated and urbanized facilities also brought new threats to our health and to the environment. Water systems, which have also seen tremendous progress and increased complexity in the last century, are prone to the growth of dangerous Legionella bacteria. Legionella cause Legionellosis (also called Legionnaires' disease), a type of pneumonia with a high case mortality rate of 10–15%, while the rate can be even higher in outbreaks that occur in healthcare facilities. Since 2000, the reported cases of Legionnaires' disease reported in the USA have increased by more than four times. European states report similar growth rates in cases of Legionellosis and the WHO noted that Legionella causes the highest health burden of all waterborne pathogens. The EU parliament adopted a more stringent approach to Legionella control in the new European Drinking Water Directive.
Though dangerous, Legionella contamination in buildings can be avoided by developing a water management program. In 2021, the U.S. CDC published a 36-page guidebook, illustrating in practical details how building owners and facility managers could step by step understand, design and implement such a program to prevent and control Legionella. On the one hand, control measures, such as heating, adding disinfectant, or cleaning can be used to limit the growth and spread of Legionella in water systems. On the other hand, monitoring measures, including routine Legionella tests at selected control points, help to evaluate the effectiveness of current hygiene measures and whether further corrective actions should be taken.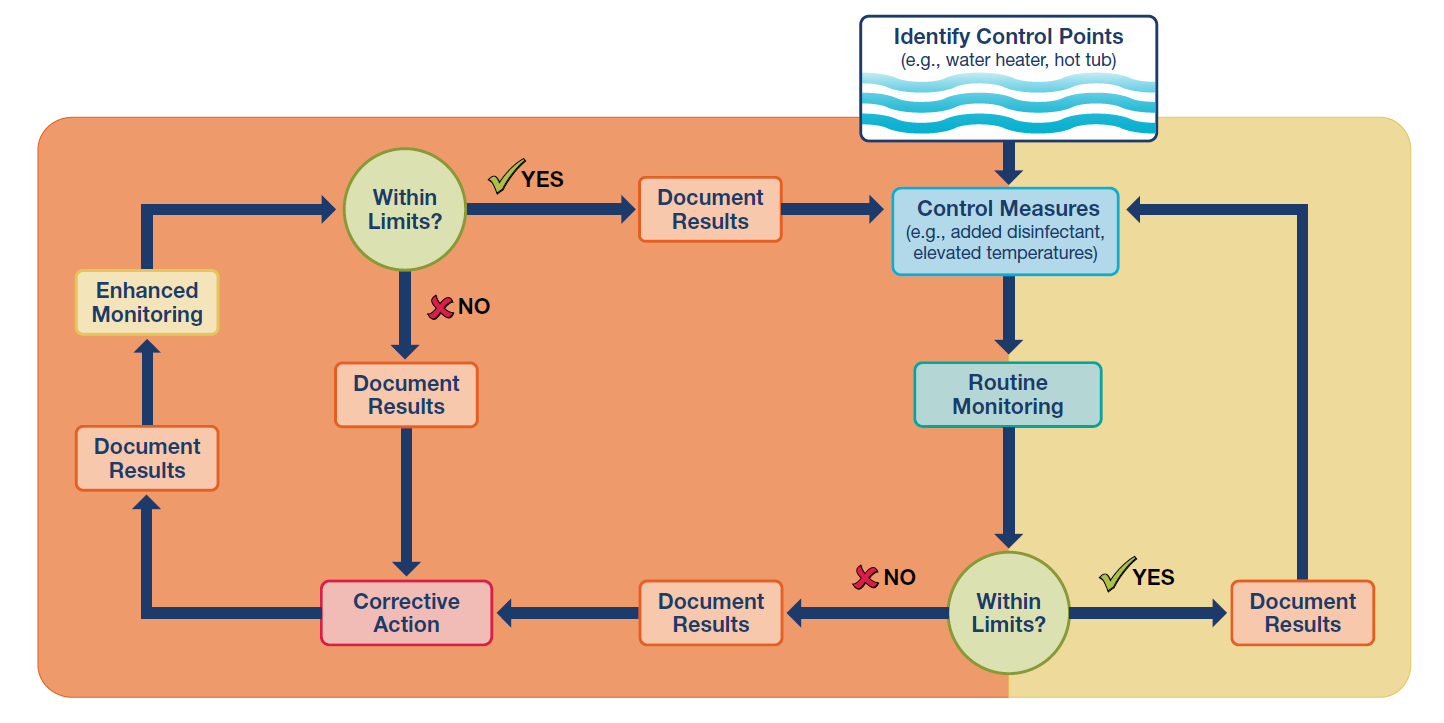 Diagram showing the process of implementing control measures, monitoring measures and corrective actions, taken from the U.S. CDC guidebook. See full text here.)

Learning from the guidebook, a water management program includes the following steps:
Describe how water enters, gets heated, distributed and discharged in your building
Identify critical checking points where Legionella could grow and spread
Decide what control measures you have in hand and under what conditions these measures should be applied
Find a reliable testing method to monitor your control measures, and

this is where rqmicro rapid and quantitative Legionella tests make a big difference when compared to the legacy cultivation method

Establish corrective actions to intervene when control limits are not met
Make sure the program is running as designed and is effective
Document and communicate all the activities of your water management program


Water microbiology experts from rqmicro also have some tips for you:
Increase the frequency of Legionella tests in summer and early autumn, as often Legionnaires' disease occurs in this period
Be alarmed when hot water is not hot enough (> 50 °C), while cold water is not cold enough (< 25 °C), and if you use chlorine disinfection, when free chlorine levels were < 0.2 mg/L
The most common cause of Legionella contamination is water stagnation, which encourages biofilm growth and reduces temperature and levels of disinfectant
Internal and external changes in building water systems usually lead to the growth of Legionella, such as system shut down or start up, renovation or construction, installation or maintenance of equipment, water main break and other service interruptions 
Aerosol-generating humidifiers and medical devices (such as dental chairs, hydrotherapy equipment, bronchoscopes) can create ideal environments for Legionella growth while also creating direct exposure to humans
Improvements in facility management are not only for a better, happier and healthier life, but also for reducing health risks, saving energy and sustainable use of chemicals. By providing fast and quantitative microbiological data, rqmicro is devoted in making water hygiene management more effective. Together with building owners, water treatment engineers, environment health officers, we make water safe.
More information for Facility Management: