Applied Microbiology Research with an Easy-to-Use Flow Cytometer
Industry
Water and food are prone to microbiological contamination which poses health, reputational and financial risks to industry. Applied research units in companies and applied academic research seek to better understand the microbiological dynamics and develop solutions for safe products and environments.
The advent of Flow Cytometric Analysis (FCM) enabled tremendous progress in clinical diagnostics and life sciences research in general. Flow cytometry describes the high-speed, optical analysis of cells that pass a light source. Cells are typically marked with fluorescent stains for various types of analysis. While flow cytometry benefitted patients and academic research worldwide, the use of flow cytometry has been confined to sophisticated laboratories up to now. The maintenance requirements, fragility of the equipment and high operator requirements of standard flow cytometers made the technology unsuitable for wider use in industry.
The rqmicro.COUNT instrument has been developed from scratch, with industry applications, on-site use and applied research in mind.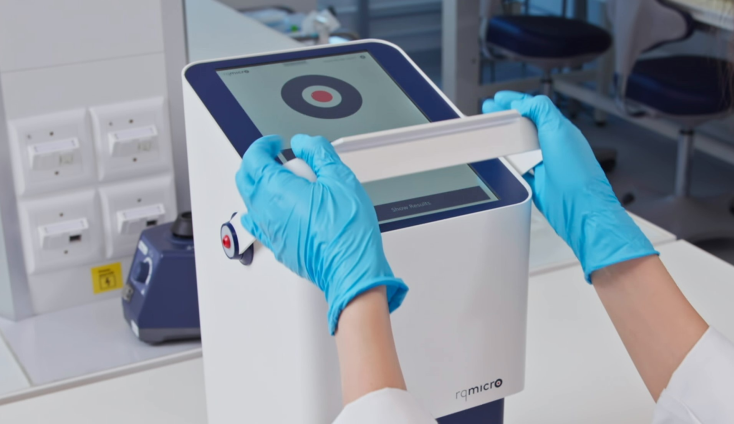 The rqmicro.COUNT instrument enables applied research labs to:
Benefit from the power of flow cytometry with a easy-to-use plug-and-play device

No maintenance required, like daily and weekly cleaning cycles and annual service

No unnecessary costs of sheath fluid and cleaning fluid


Use the cloud platform to store results and perform data analysis directly in your web browser
Typical areas of applied research in water supported by rqmicro.COUNT include:
Determination of the dynamics of TCC and/or ICC populations in different water systems under different conditions such as stagnation, chemical or heat treatments


Quantification of Legionella or E. coli in environmental samples that cannot or only with difficulty be analyzed using cultivation methods, e.g. surface water or waste water


Examination of bacteria from biofilms

Investigation of the indexing of the VBNC state of Legionella

Analysis and quantification of different bacteria throughout the water cycle

Determining the efficiency and function of water treatment systems, e.g. for water reuse

Example 1: Flow cytometry plot obtained on the rqmicro.COUNT (IMS and FCM on the cartridge)

Example 2: Flow cytometry plot obtained on the rqmicro.COUNT (IMS and FCM on the cartridge)
Would you like to learn how to monitor bacteria in water with the rqmicro.COUNT? Watch the video and contact us today. We are looking forward to talking with you.